At the time of writing, Ethereum was trading close to 1% at its current price of $ 185, a slight increase from its $ 182 low yesterday.
The recent volatility of the cryptography markets has led ETH price action of large exchange rate chains like Ethereum to form a close correlation with that of Bitcoin, which means that the aggregated market has plunged into a phase of lateral trading overtime in last days.
The situation remains tense and with a clear downward movement of Ethereum prices, buyers may assist sellers to accelerate the decline. This is due to a fairly high level of marginal positions. This fact should make Ethereum investors worried and more vigilant.
The candles of yesterday and today showed a total increase of 4% in the price of Ethereum. Following the decomposition of the triangular lower trend line of November 15 and the consolidation limit test of less than $ 180, the buyers decided to continue their movements in the range of $ 180-200. The $ 180 price mark test aimed at increasing volumes, compared to the last days.
Recent figures indicate that ERC20 tokens on Ethereum are gaining more and more market share compared to the main project.
The change could indicate that companies that rely on Ethereum, which allows everyone to create their token, gain ground and grow with a solid user base. Therefore we may see significant appreciation based on the underlying factors for a spike upward in the price of ETH come the year 2020.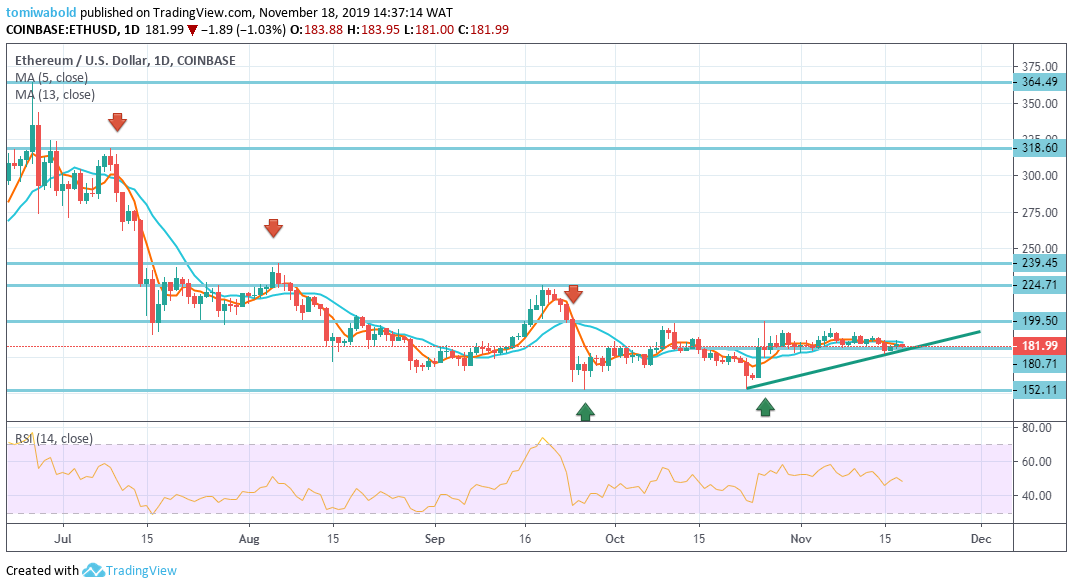 ETH Price Is Close to Moving Average 5 and 13 as Ethereum is Recovering from Sales Pressure
Going in a straight line for the umpteenth time, ETH/USD came out on Sunday at 184.71 after making gains of about $ 2.21 (1.21%) with a low volume. However, after tending to increase to about $ 0.11 after opening today, the market has managed to turn around and the sellers have taken control and may come out positively the next day from its lower opening price.
ETH/USD managed to keep its price on the horizontal zone at 180.71 around the moving average. After reaching a level of 183.95 today, the cryptocurrency has found resistance around the moving averages 5 and 13. ETH shows short-term weakness based on its long-term downtrend, with only the medium-term trend still bullish.
etheth priceethereumethereum priceethereum price analysis

Author:
Azeez Mustapha
Azeez Mustapha is a specialist in Computer Studies (including DTP), Forex and Crypto trading professional. Being expert technical and currency analyst, as well as experienced fund manager and author of several books, Azeez places strong focus on crypto market studies conducting comprehensive price analyses and sharing forecasts of presumptive market trends.